Are you interested in a »Brand Holism« lecture at your agency, studio or school? I would love to share some findings and interesting thoughts with you and your colleagues. Just let me know via hello[at]ejochum[dot]com including a date suggestion or get in touch on Twitter. Sharing ideas fuels creativity and opens up new perspectives – let's bring branding to a new level!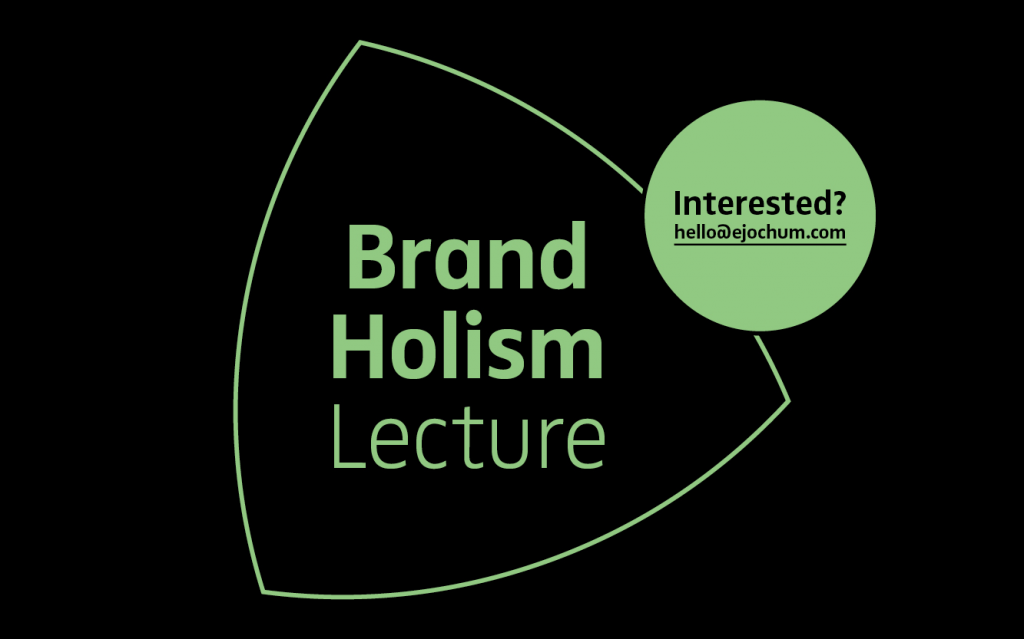 Here is the abstract about lecture and a short bio about me in English:
We live in a dynamic and digitalised world. We have never been connected faster and easier than today. The development in culture, technology and economy opens up new forms who we connect, communicate and consume. What does this flexibilisation mean for a brand? Why must a brand not fight against change, but needs to be an active part of it? Companies and institutions grow everyday, so grow their brands, their identities and their communication. How does a brand become a living organism? »Brand Holism« is a new understanding of strategy, identity and expression of a brand and offers an inspiring support for everybody working for and with brands.

Emanuel Jochum, *1988, is an Austrian cosmopolitan and graphic designer. Bachelor's degree course Media Design at Vorarlberg University of Applied Sciences and Universidad de Monterrey in Mexico, master's degree course Communication Design at Zurich University of the Arts. Communication designer at Sägenvier and Impact Hub Zürich, since 2011 graphic designer at spitzar, since 2012 independent visual designer and design researcher in the fields of strategic brand development, flexible visual identities and branding for social enterprises.
Und auf Deutsch:
Wir leben in einer dynamischen und digitalisierten Welt. Noch nie waren wir mit anderen Menschen schneller und einfacher vernetzt als heute. Die Entwicklung in Kultur, Technologie und Wirtschaft führt zu neuen Formen, wie wir uns verbinden, kommunizieren und konsumieren. Was bedeutet diese Flexibilisierung für eine Marke? Warum darf sich eine Marke nicht gegen Veränderung wehren, sondern muss aktiv etwas dazu beitragen? So wie Unternehmen und Institutionen jeden Tag wachsen, so wachsen auch ihre Marken, ihre Identitäten und ihre Kommunikation. Wie wird eine Marke zu einem lebendigen Organismus? »Brand Holism« ist ein neues Verständnis von Strategie, Identität und Ausdruck einer Marke und bietet eine inspirierende Hilfestellung für alle, die für und mit Marken arbeiten.

Emanuel Jochum, *1988, ist Dornbirner, Weltbürger und Grafikdesigner. Bachelorstudium Mediendesign an der Fachhochschule Vorarlberg und Universidad de Monterrey in Mexiko, Masterstudium Kommunikationsdesign an der Zürcher Hochschule der Künste. Kommunikationsdesigner bei Sägenvier und beim Impact Hub Zürich, seit 2011 Grafikdesigner bei spitzar, seit 2012 freier visueller Gestalter und Designforscher mit den Themen strategische Markenentwicklung, flexible Erscheinungsbilder und Branding für Social Enterprises.