Daniel Severin, Brand Manager at Swisscom, shared some client-side insights about the transformation Switzerland's leading telcom company went through over the last couple of years and how they managed to incorporate the living identity definition into every field of action. Here are some quotes extracted from his expert input which provide some details about the issues in the rebranding process.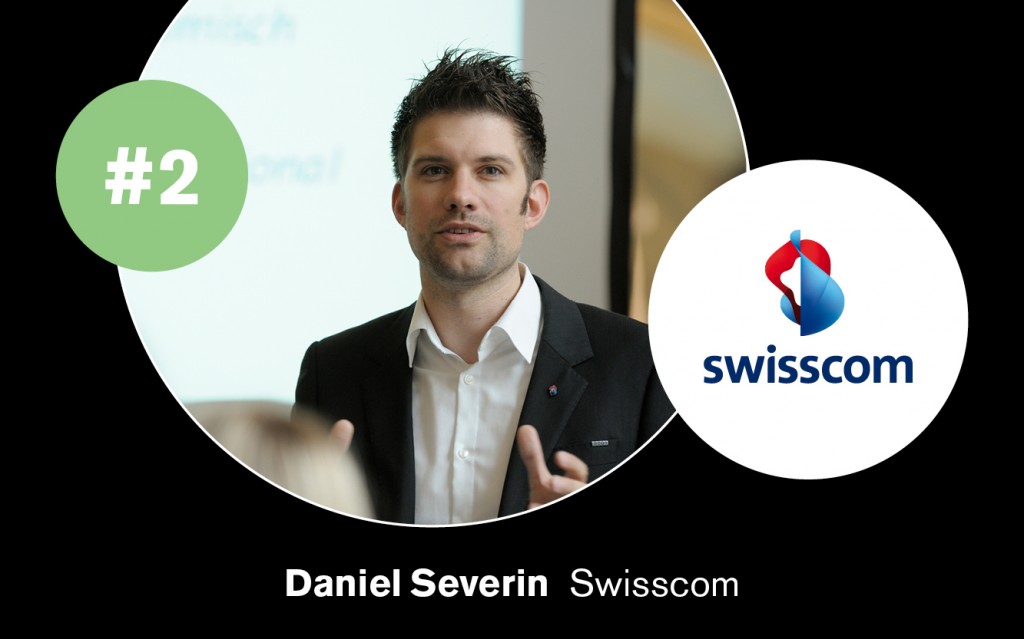 Swisscom's CI definitions provide a dynamic playground:
The newest corporate identity basics consist of a one-pager with the definitions of the brand. We define Swisscom as a living identity. This means that service companies like Swisscom need to adapt to situations. We decided to create a single brand that appeals to the 16-year-old mobile customer at the openair event, but also to the 60-year-old major customer or bank buying services. This results in a broad range of different touch points where we speak to customers. The living brand definition leads to a dynamic corporate identity. This is important because there are several companies which are very static regarding their brands, but also have a dynamic corporate identity, a dynamic corporate design concept. And I think we need to separate a traditional corporate design from a dynamic brand.
The visual identity concept allows creative expression:
When it comes to design, we defined the visual identity in a design diagram. This is the definition of how the brand behaves in various fields and this is also the basis for the development of the corporate design. How do Swisscom look? How do we sound? How do we feel? What's the taste of Swisscom? In this step, we don't talk about logos, applications, business cards, colours or whatever. Theoretically, it's possible to create another logo with the help of our visual identity diagram. If we define something we haven't defined before, let's say a Swisscom chair, we can go through the diagram. The materiality is multilayered, transparent, variable, the counterpoint may be light and heavy, straight and smooth. With the form we say axis and malleable, the old Swisscom as the clear axis, between origins and network in Switzerland, and the malleability of digital media. This means we may have a straight back of the chair, but movable seat squabs which are dynamic and soft. With quality, we may say we have honest material, natural, multifaceted, stainless steel, long-lasting, means we work with wood or felt or soft leather. This all helps us to creatively move towards certain directions and finally make a decision. We've been doing this for several years now and it works pretty well.
Design follows strategy:
There is a rising demand for dynamic approaches. Design follows function. For us, corporate design follows strategy. This is crucial and the reason why there is the possibility for a dynamic corporate identity.
Stay tuned for the full expert input including details about Swisscom's history, the rebranding process made with Moving Brands and problems they had in the implementation of the new identity. The input will be available in the soon-to-be-released Dynamic Branding App!